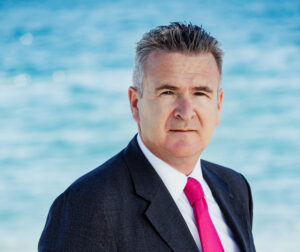 [email protected]
+1 649 231 8896
Trained at the English Bar, Tim has been in practice as a court advocate across the Caribbean for over twenty years. His blend of both onshore and offshore work offers clients of the firm a unique perspective. He has deep experience in the strategic aspects of preparing for, running, winning and sometimes simply avoiding "bet-the-company" disputes.
He understands the need to deliver a commercial approach to busy co-counsel and end-user clients.
Tim has given expert evidence many times in a wide range of onshore jurisdictions on corporate insolvency issues, directors' duties, confidentiality legislation and judgment enforcement.
He has practised BVI law since 2004.
Receivership and trustee advice in the context of judicial dissolution of a Nevis entity as migrated from elsewhere and facing possible judgment enforcement issues from onshore proceedings
Anti-suit proceedings in the insolvency context
Russian sanctions, advising in respect of applicability and effect of same in the context of a finance structuring involving a share pledge in favour of a sanctioned lender; British Virgin Islands and several onshore jurisdictions involved
Constitutional claims on behalf of same-sex couple seeking immigration recognition in the Turks & Caicos Islands
Judicial review of suspension of St. Kitts & Nevis passports granted under the citizenship by investment programme
Judicial review of banking regulators of St. Kitts & Nevis and related civil claims resulting from regulatory steps taken against a bank
Habeas corpus proceedings arising from unlawful detention during the COVID-19 pandemic
Defending proceedings in the British Virgin Islands Commercial Court against an investment fund for misrepresentation and unfair prejudice of shareholders
Defending registered status of bank security in respect of valuable beachfront and counterclaims for declaratory relief on the basis of proprietary estoppel ("monies-had-and-received")
Insolvency proceedings for liquidators variously in the British Virgin Islands, Trinidad & Tobago, Dubai DIFC (on behalf of British Virgin Islands' liquidator)
Proceedings brought by beneficiaries relating to discretionary trust (Monaco and Hong Kong)
Defending proceedings in the Turks & Caicos Islands brought by the trustee against a beneficiary in respect of disclosure for onshore proceedings
Expert witness (including deposition and court evidence) in various onshore proceedings
Bar Admissions:
Anguilla
Belize
Bermuda
British Virgin Islands
Dubai, DIFC
England & Wales
Gibraltar
Grenada
Montserrat
St. Kitts & Nevis
St. Vincent & the Grenadines
Trinidad & Tobago
Turks & Caicos Islands
Manchester University, LLB
London University, Queen Marys, LLM
Inns of Court School of Law, London, Bar Vocational Course
Eugene Dupuch Law School, The Bahamas, Legal Education Certificate (from the Council of Legal Education)
Co-author (with Yuri Saunders), "Be careful what you wish for: headaches and bear-traps for liquidators and their lawyers when an insolvent liquidation is discharged for usually unexpected solvency reasons" (Gore-Browne on Companies Special Release, March 2020)
Co-author (with Willin Belliard), "Constitutional protections confirmed as extending to companies in Central America – the story of a Titan(ic) Battle in Belize" (Gore-Browne on Companies Special Release, March 2019)
Co-author (with Willin Belliard), "Enforcement of Foreign Judgments in the Turks and Caicos Islands" (International Comparative Legal Guide, March 2019)
Commonwealth Lawyers Association
INSOL
COMBAR
Chancery Bar Association
Chartered Institute of Arbitrators, Fellow
Company Law Advisory Committee, Turks & Caicos Islands
OECS Bar Association